Art Class for Kids and English Practice
The concept of this Artclass is to enjoy the process of doing art.  It is an offer for Kids (age 6-12) who like to be creative with different art materials.
We will produce our own artwork and get to know different ways to create. We will paint, work with clay and paper.
The mainlanguage of this class is English which is a great opportunity to practice the language. Beginners are welcome as well as experienced English speaker.
Kids can improve their social skills, their fine motor skills and also find a way to express themselves through art in this class.
Parents are welcome as well when their child attends the class the first time.
The teacher speaks German and Spanish fluently. She is an artist and occupational therapist.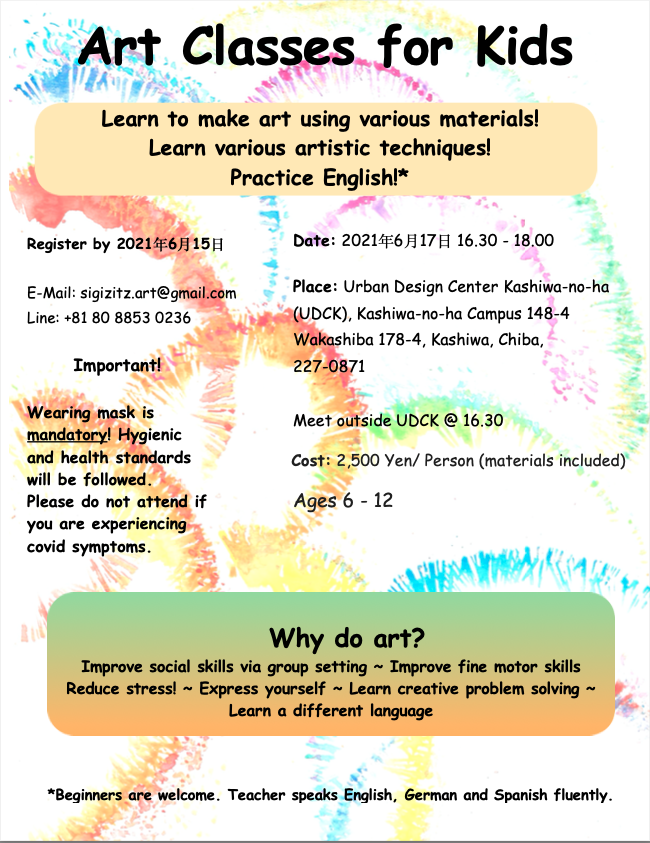 開催日:2021/06/17
時間:16:30-18:00

場所:

meet at 16.30 outside the UDCK building, Kashiwa-no-ha Campus 148-4, Wakashiba 178-4, Kahsiwa Chiba, 227-0871

 

主催:Sigrid Zitz 

問合先:sigizitz.art@gmail.com /line: 80-8853-0236
LINE公式アカウント
UDCKの公式アカウントを友だちに追加すると、気になるイベント情報がスマホに届きます。